Happy Monday Guys! As promised, I'm sharing details about all of the yummy food I ate while I was in Chicago.
Lyfe Kitchen
After our first full day in Chicago we went to Lyfe Kitchen for dinner, which was conveniently located right across from our hotel.
I got the Thai red curry bowl which I quite enjoyed. It comes with eggplants, broccoli, peas, peppers, and wheatberries in a coconut curry sauce. You can add a protein to it if you like, but I left it as is. I'm putting this on my list of things to remake at home for sure. It seems like it would be super simple. I also got a pomegranate lemonade to go with it which was a great choice. I'm always down for pomegranate lemonade and this did not disappoint. Their baked sweet potato fries with garlic parmesan and chipotle mayo were also a crowd pleaser.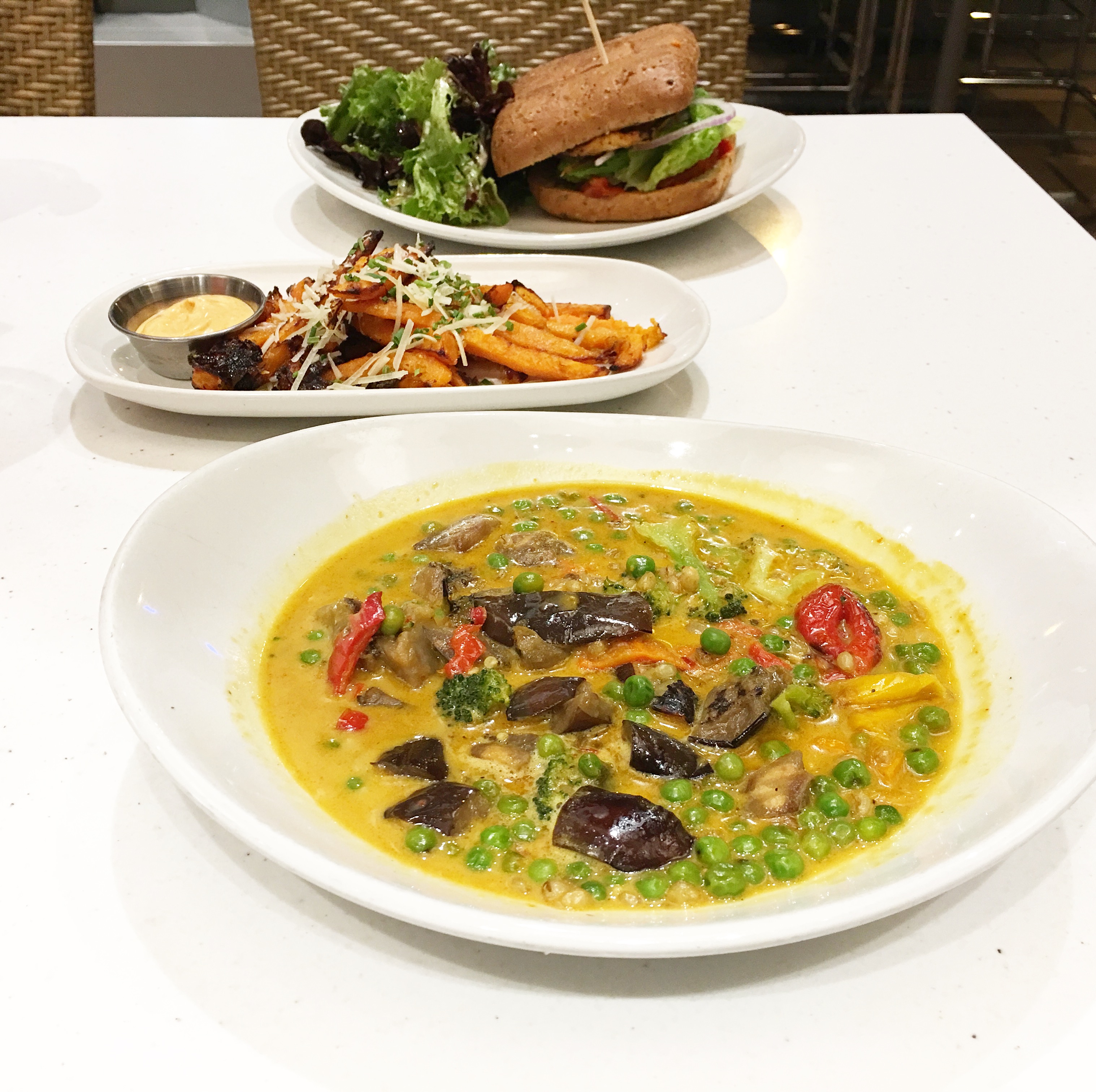 We ended up going back Sunday evening right before Hamilton. I wasn't too hungry at the time so I wanted something light. The red curry bowl would have been a good choice but I wanted to try something different so I got their roasted mushroom and goat cheese flat bread with a balsamic drizzle. I love my goat cheese and the balsamic drizzle gave it a nice little kick. I'm not a big mushroom person but this is the way to get me to eat them. Besides goat cheese, there was also mozzarella and caramelized onions. It ended up being a little tangy, and sweet (but not overly so). It was quite tasty and I'd certainly order it again if I go back.
Beatrix
We went to Beatrix Friday morning after our workout at Barry's. On a whim I decided to try their honey butter cinnamon roll. It was the last one they had left and the big dollop of icing on top was just calling my name. One word. Heavenly. This is a must get guys.  Please don't fight me on this. Just go. And get there early because they sell out of these fast. We actually ended up going back on Monday morning just before we left and this time we both got one.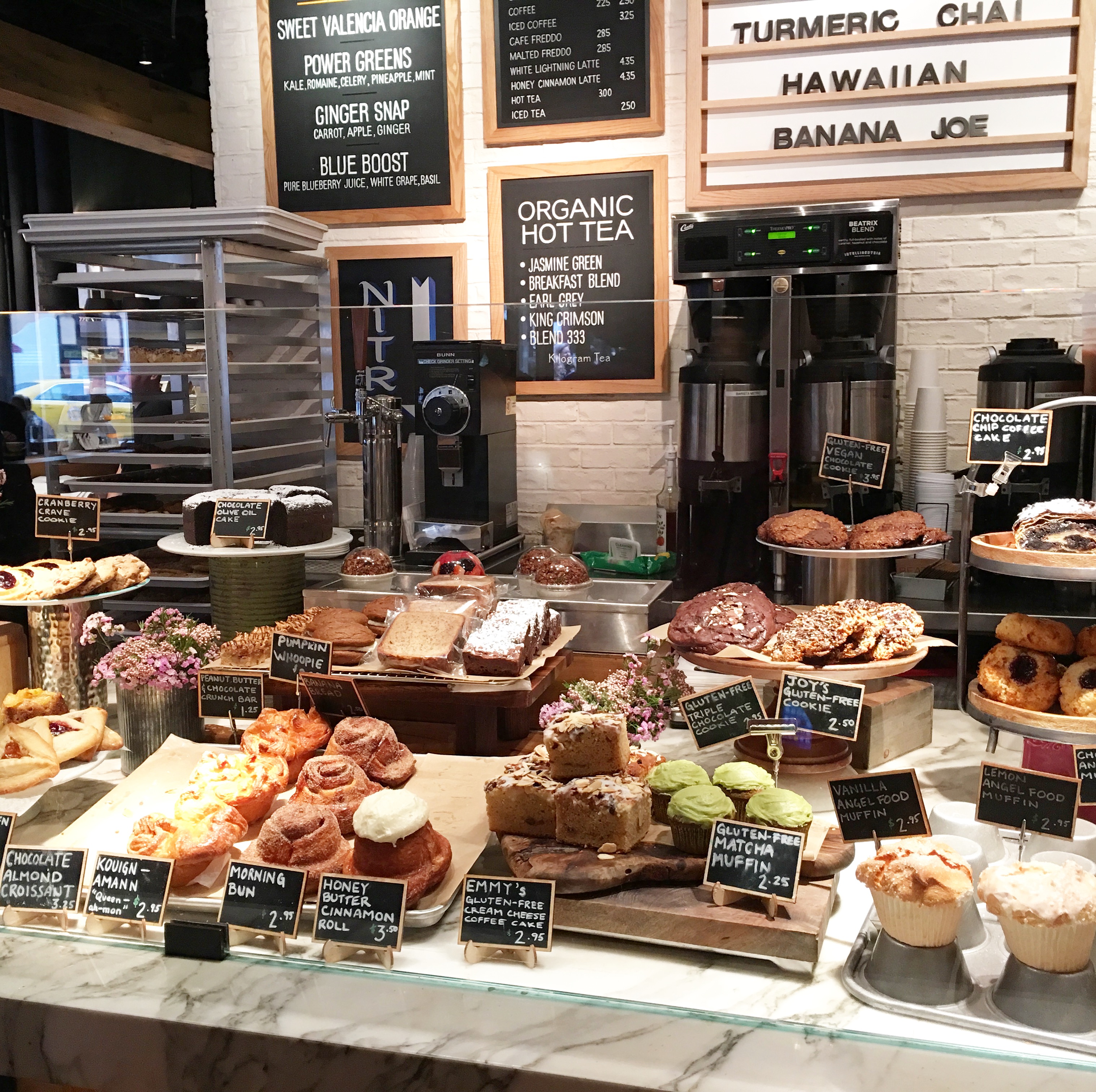 Besides the sweets for the actual food we tried their lemon pancakes which folks seem to love and I can understand why. They serve it with a lemon glaze and blackberries. I'd highly recommend this. I got their kale, egg white, and pepper jack sandwich, which was good but not game changing.
For drinks we tried their blueberry basil smash and orange, mango ginger drink. They both were really good but there was something about the blueberry drink. I drank it so fast because it was so good. That one was my favorite, but you can't go wrong with either of them.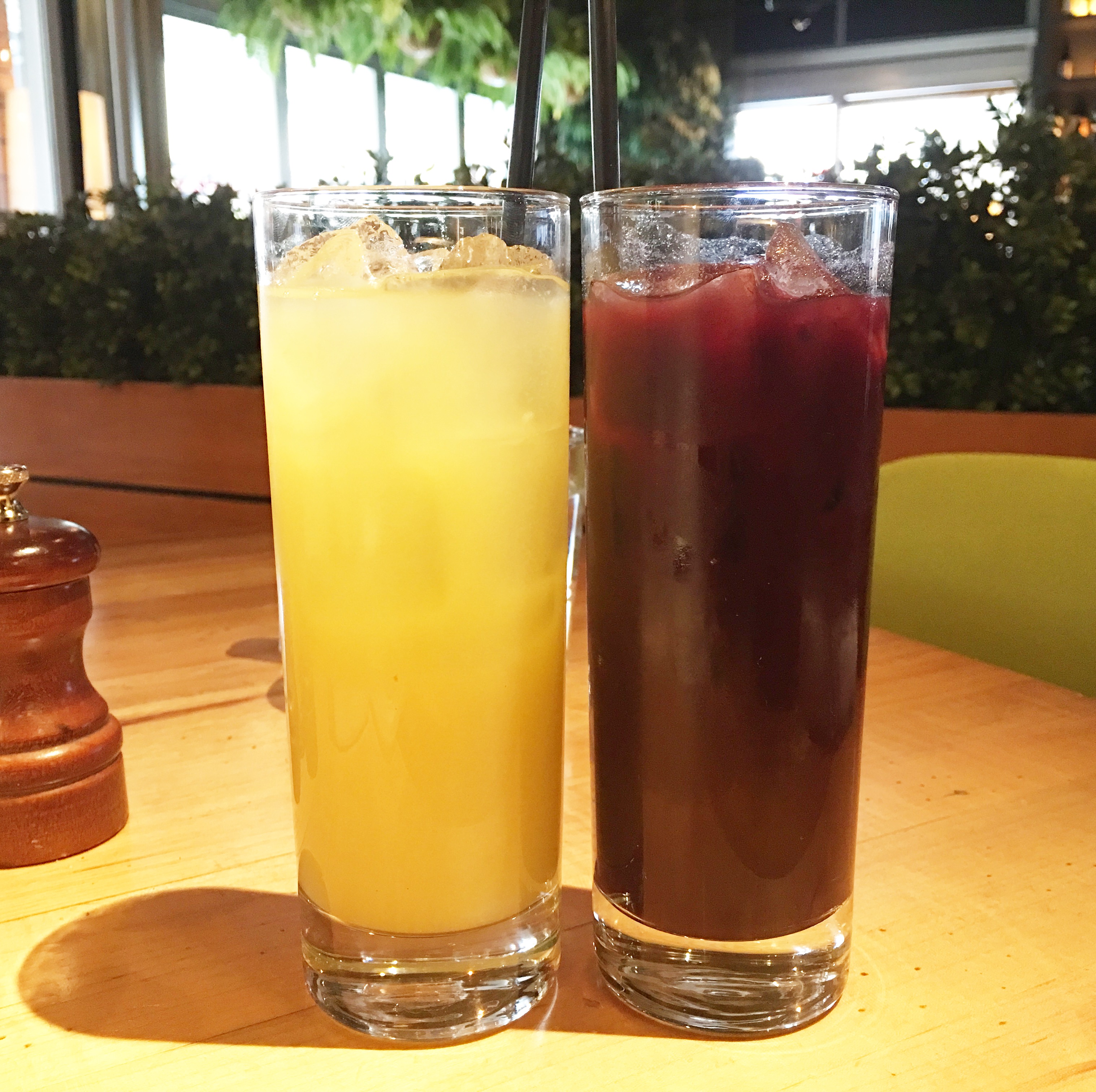 Mad Social
I love churros so when I was looking up Chicago restaurants before the trip and saw Mad Social had a chicken and churro waffle, it was a must stop. A lot of times people describe things as "churro" (e.g. cupcakes, pancakes, etc) just because they used a little cinnamon and sugar. Let me tell you, a little bit of cinnamon and sugar does not a churro make! A churro is also about texture – crispy on the outside and pillowy and soft on the inside. This waffle was basically a churro in waffle form. I haven't had a bad waffle before, but I've never had a particularly memorable or amazing one either. Until this one. I really only needed the waffle but the fried chicken was pretty freakin good too. The dish came with pork belly too, but I didn't eat so I can't report on that.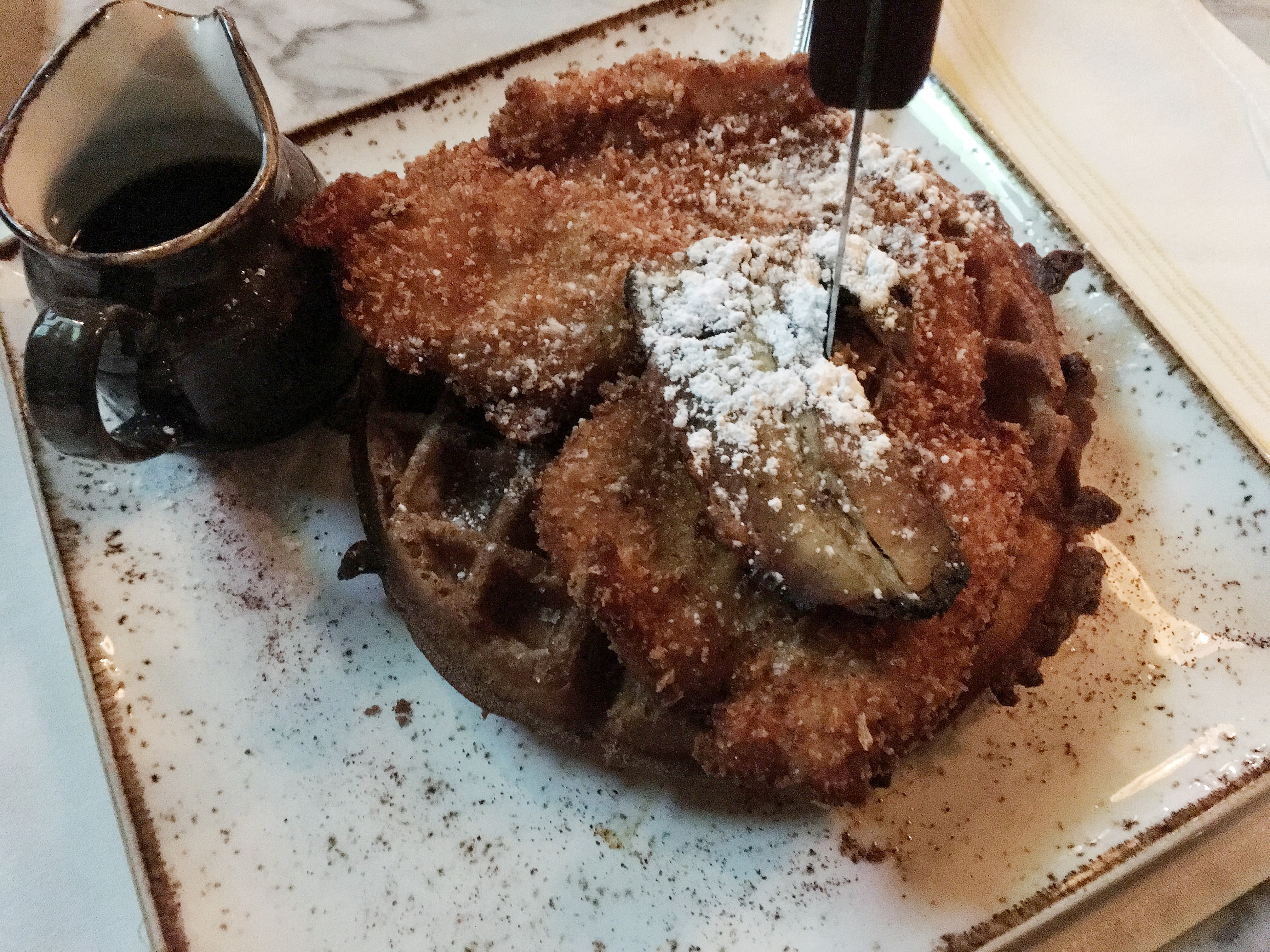 For an app we got their togarashi spiced chicken lollipops. No regrets, because they were delightful.
Dolce Italian
We went to Dolce on my birthday and I ended up getting their brunch pizza with a poached egg. This was actually really tasty. I loved the little kick from the jalapenos. Not the best pizza I've ever had in life but if I find myself back at Dolce I'd get it again.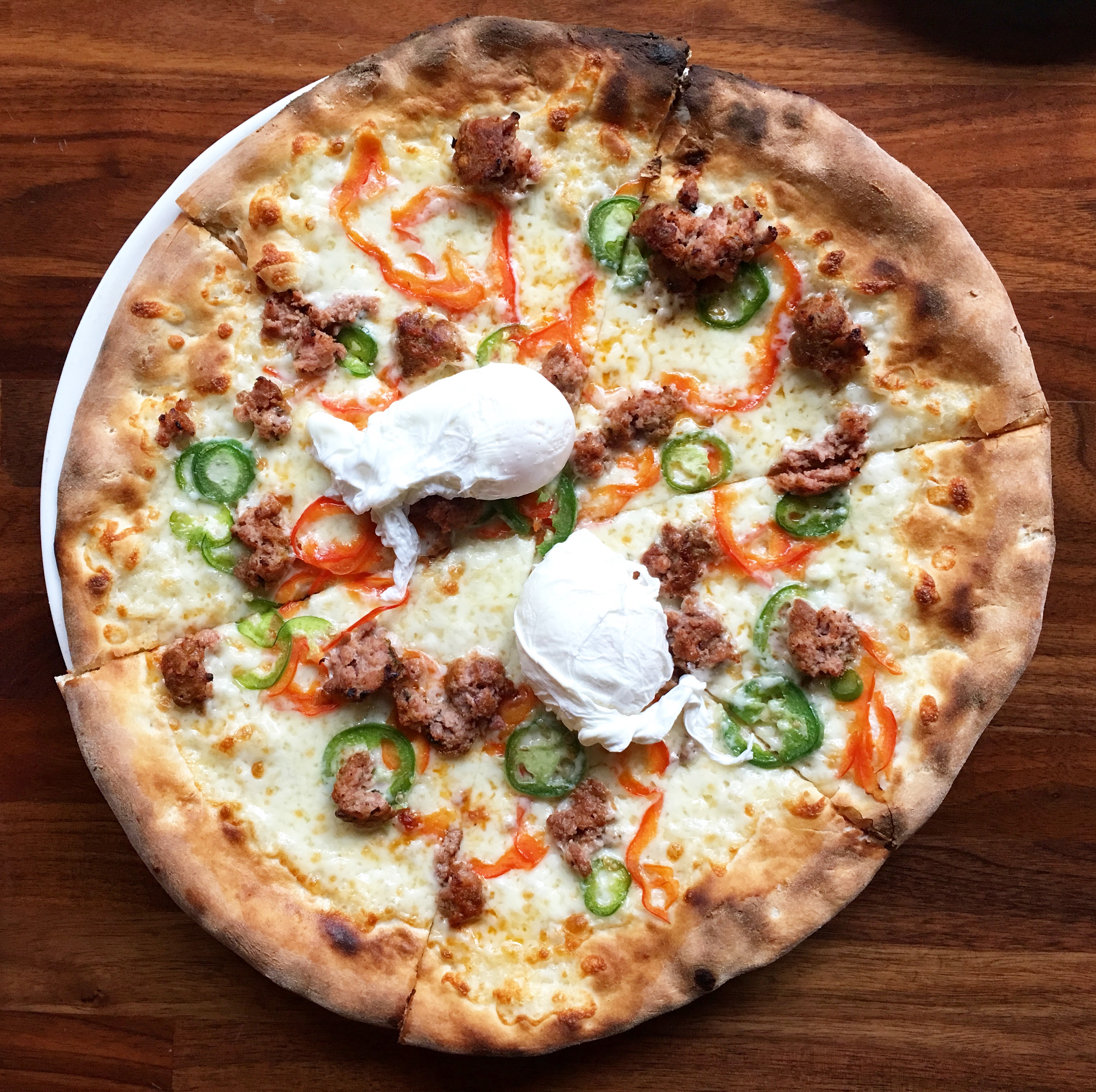 Pequod's
I couldn't leave Chicago without indulging in some deep dish, and from my research Pequod's was the place to do it with their caramelized "aka almost burnt but not" crust. The reviewers did not steer us wrong! The pizza was oh so good. I read online before hand that it takes a while for it to come out (close to an hour), but since we got their personal sized pizzas, the time was like 20-30 minutes. While this is their smallest size, trust me when I say it's plenty filling with how "deep" it is lol. The crust was perfect.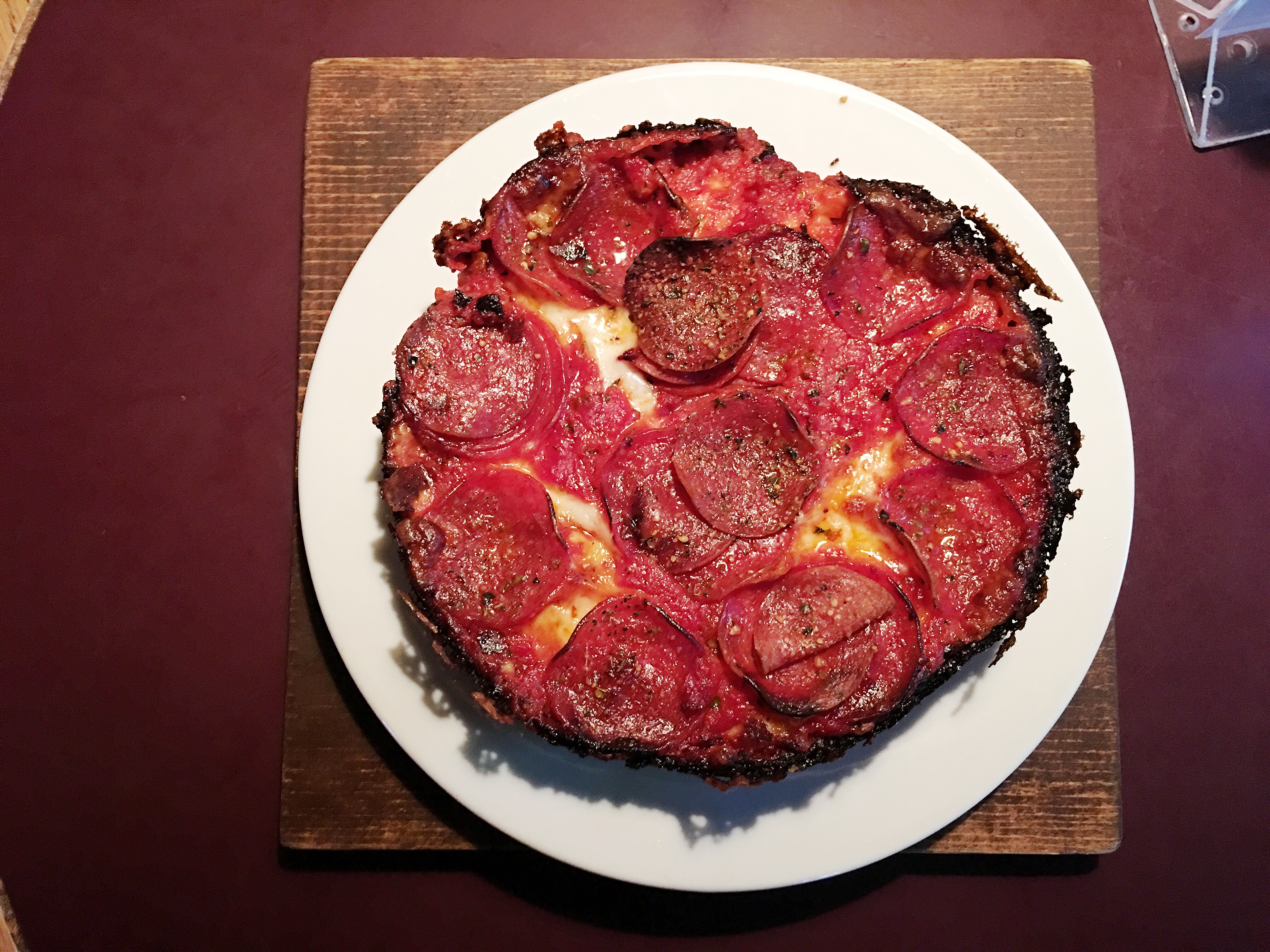 As an app we got cheesy garlic bread and fries. The fries were good, nothing spectacular, but I really enjoyed the cheesy garlic bread.
Firecakes Donuts
We stopped here on Sunday morning. Originally I added this place to my list because of their churro donut ice cream sandwich. Unfortunately, the location we went to wasn't the one with the ice cream sandwiches. Reeling from the disappointment, we ordered several donuts in an attempt to drown our sorrows. Out of all of the ones we ordered, my two favorites were the Tahitian vanilla donut (which was the size of my head) and surprisingly, the pistachio. I do love a good cake donut though (which is what the pistachio was). These two were really quite good.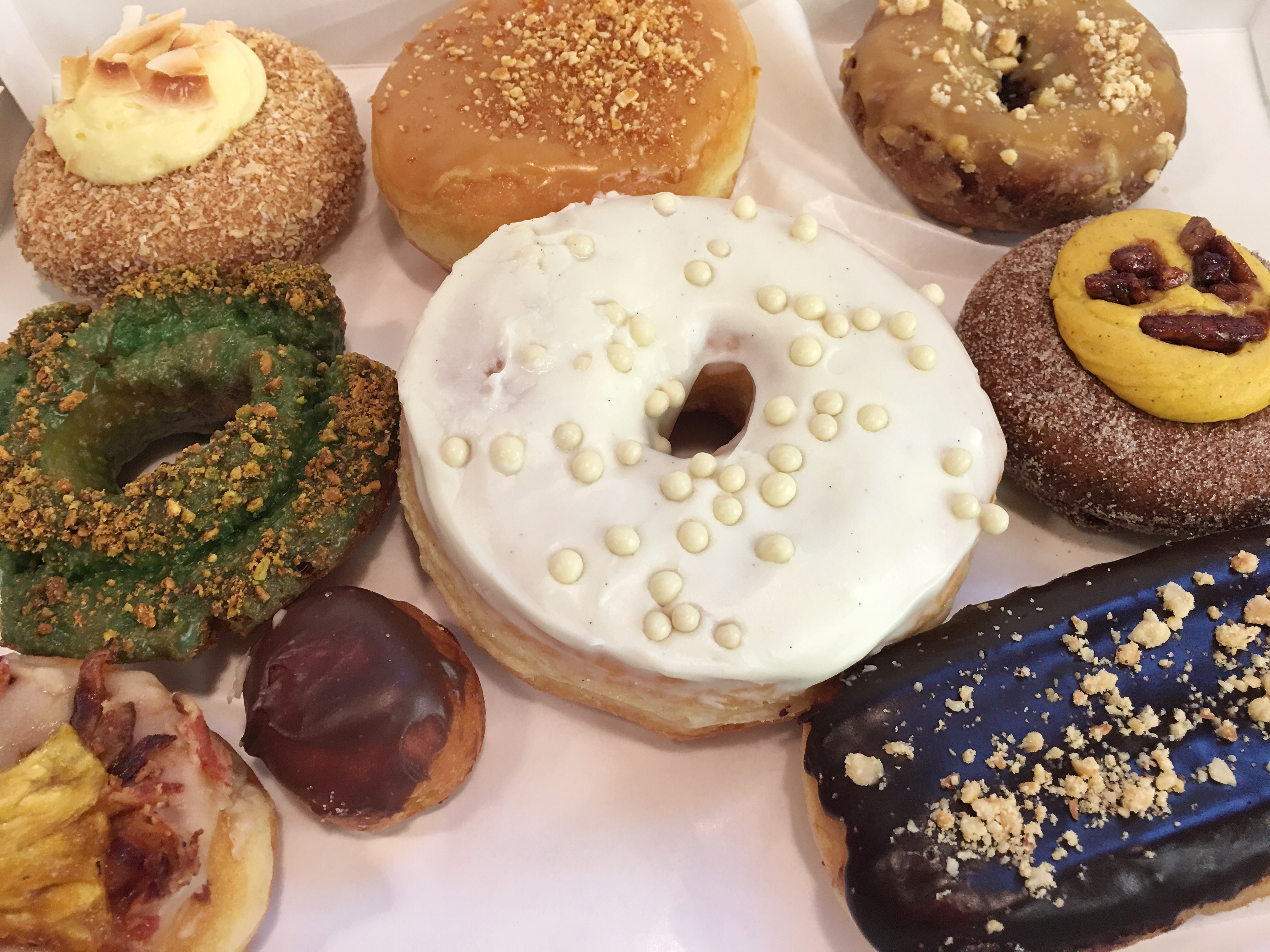 Yolk
I'll keep things brief here. If you go, check in on Yelp first, and then get the red velvet french toast and/or the nutella crepes. You're welcome.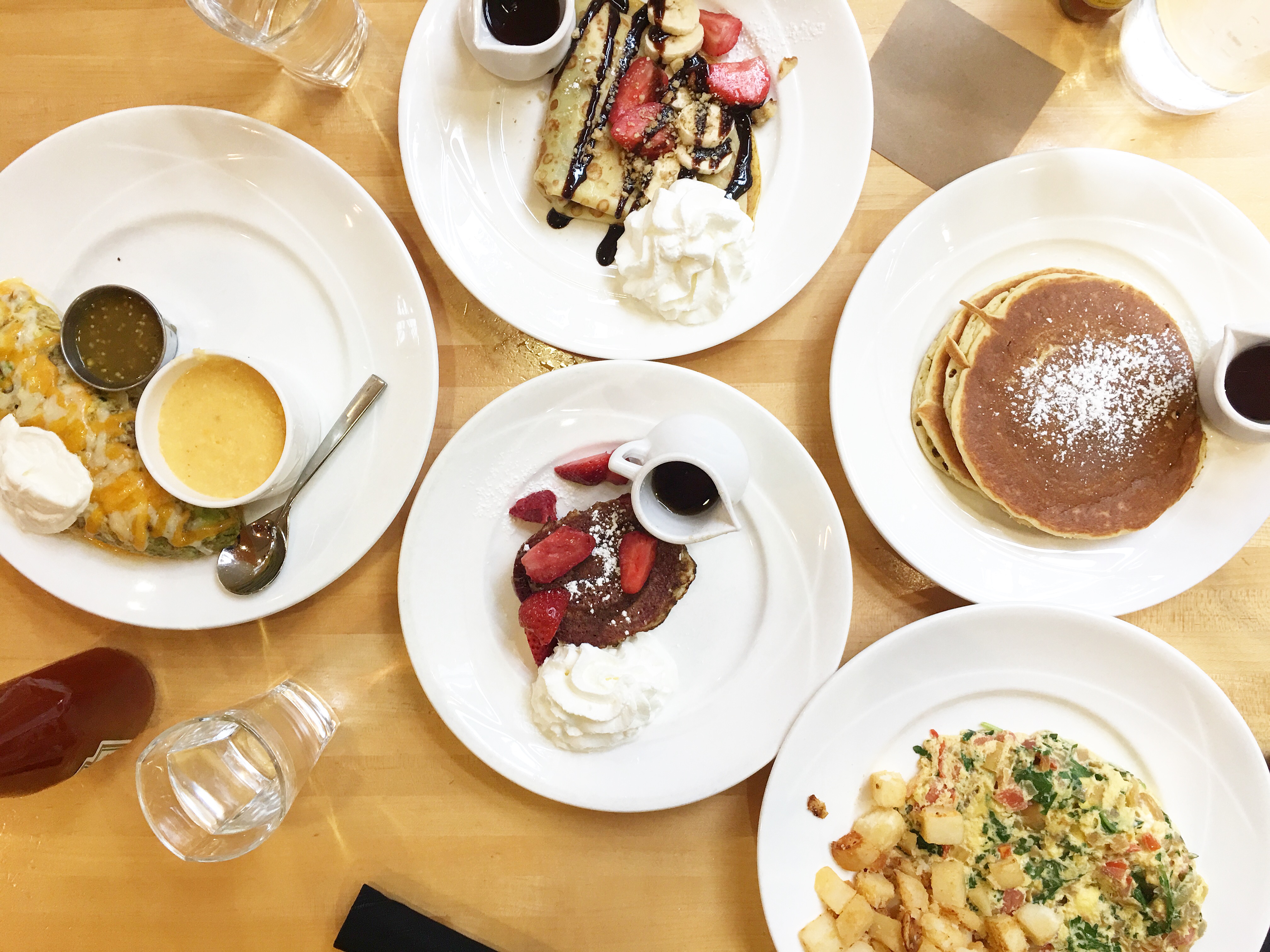 Clothes
Let's just say that the Windy City did not disappoint on its name! I knew it was going to be cold and that we'd be doing quite a bit of walking, so I wanted to be warm and comfy (still cute, of course).
On Friday I wore a thick, blanket like aztec cardigan (ASOS), with a black sweater (Target), black skinny jeans (ASOS), and some pearl slides (Forever 21).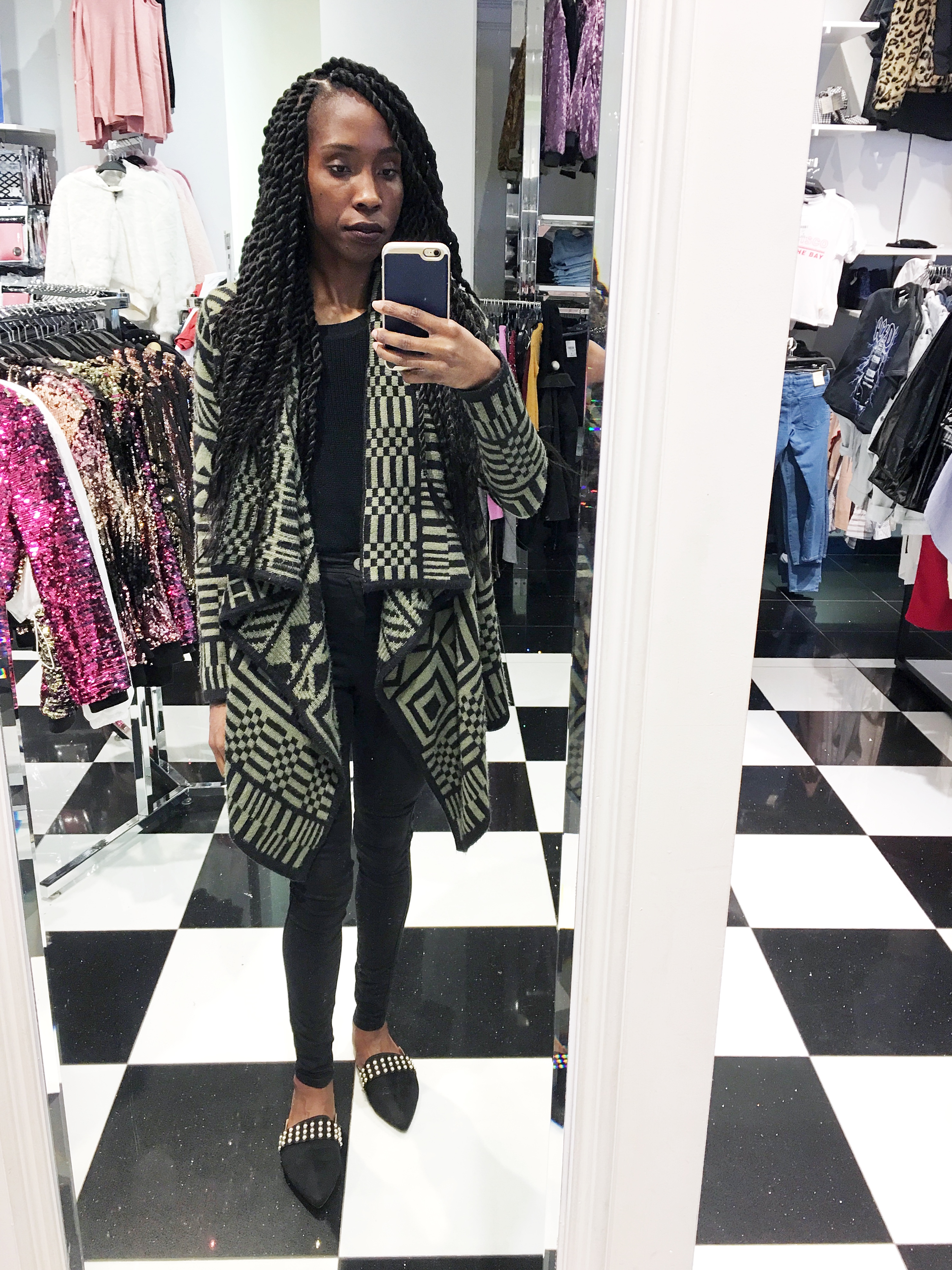 On Saturday I wore a mustard yellow sweater (Forever 21) with a denim top underneath (Topshop), a tweed multi-colored skirt (J. Crew via thrift shop), tights, and lace oxfords (Modcloth).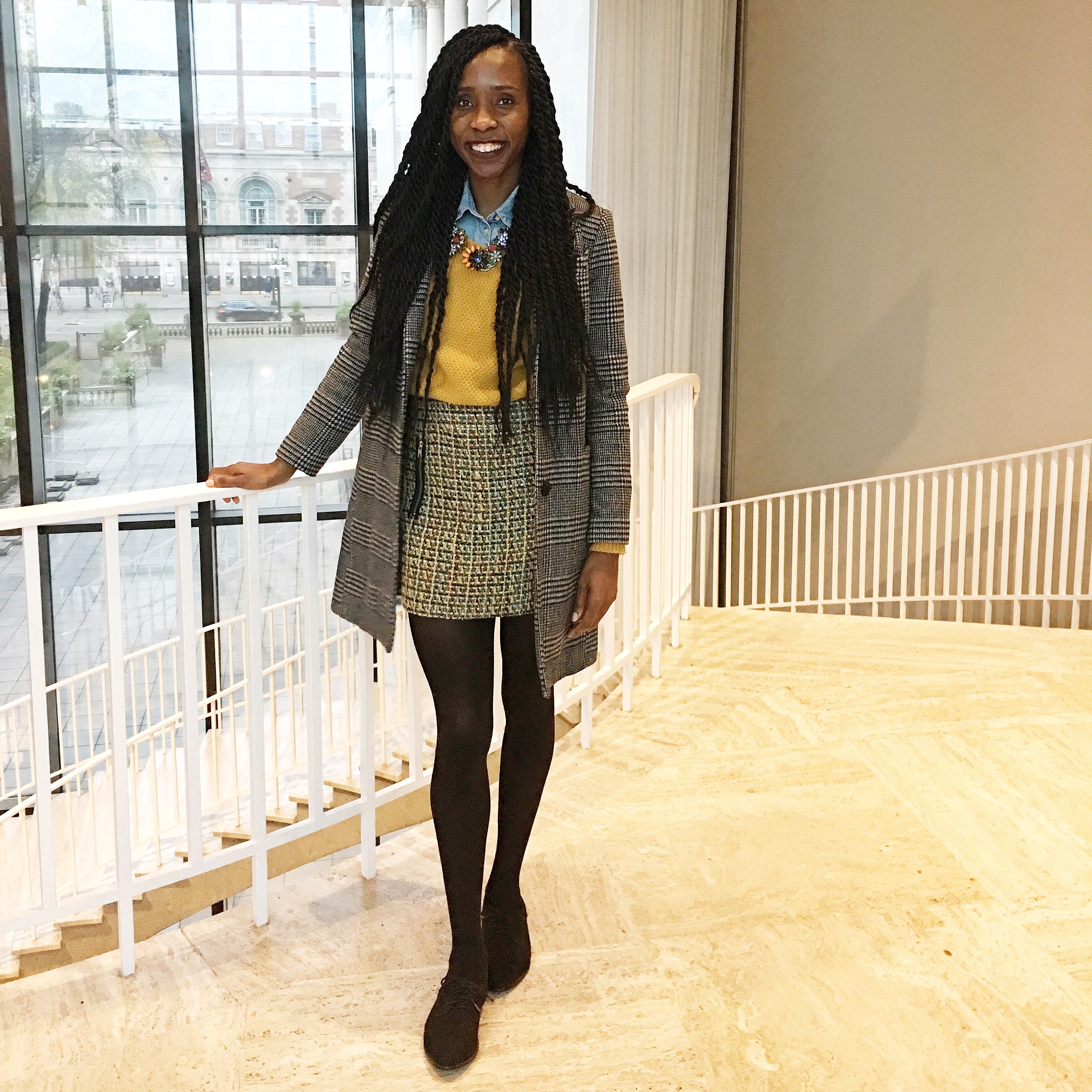 On Sunday (my birthday) I wore my red Ralph Lauren blazer (thrifted), a grey sweater (Forever 21), polka dot shorts (Target), tights, and my lace oxfords again (Modcloth).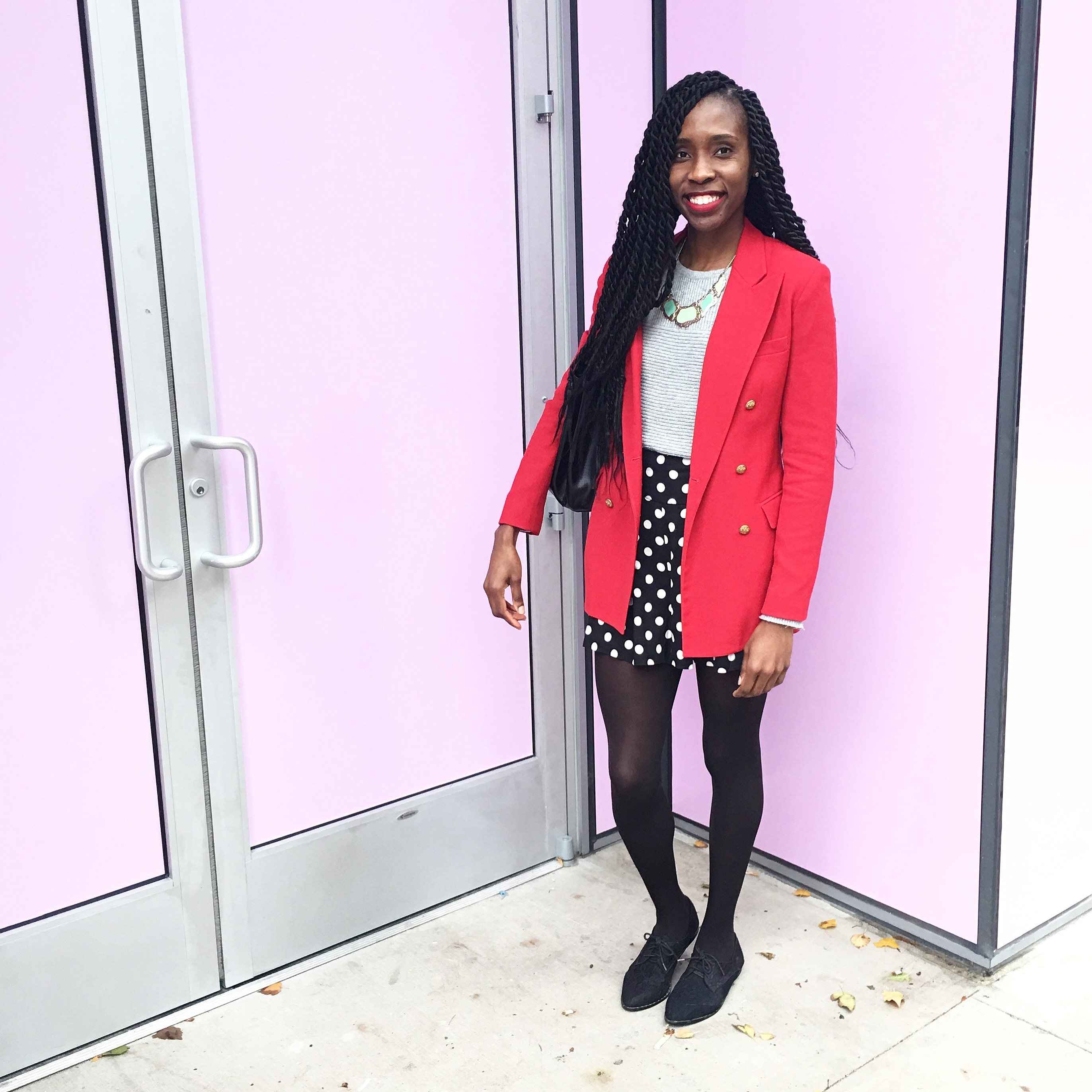 That's it folks! I really enjoyed this trip, and know that I'll be coming back to Chicago. If only, they didn't have that ridiculous sales tax?!
For my Chicago folks, let me know if there are any restaurants I missed. I'll start making a list for round 2!
Anyways, I hope you guys have a great week. It's the last month of 2017. Let's finish strong!