Happy Friday's Eve, Guys! Today, I've got a special post for you. Since I submitted my final proposal last Friday and my defense isn't until next Friday, I was planning to take a little trip to go apple picking this week. The closest apple orchards are a few hours away so I was going to make a mini trip out of it. I planned to drive up on Wednesday, stay at a cute little B&B for a night, and then go apple picking the next morning. Sounds great, right? Well when I looked into the different orchards I ran into a little problem. No apples! I checked some of their websites and they said that due to the beautiful weather and large crowds coming to pick apples they no longer had apples available for the public to pick. They did note, however, that they were still selling pre-picked apples.
What?!
I'm not driving 3+ hours and staying overnight to buy pre-picked apples. I can go a mile up the street and do that. I was bummed but I came up with a pretty awesome backup plan – finally check out the NC state fair. I had never been and this seemed as good a time as any to go.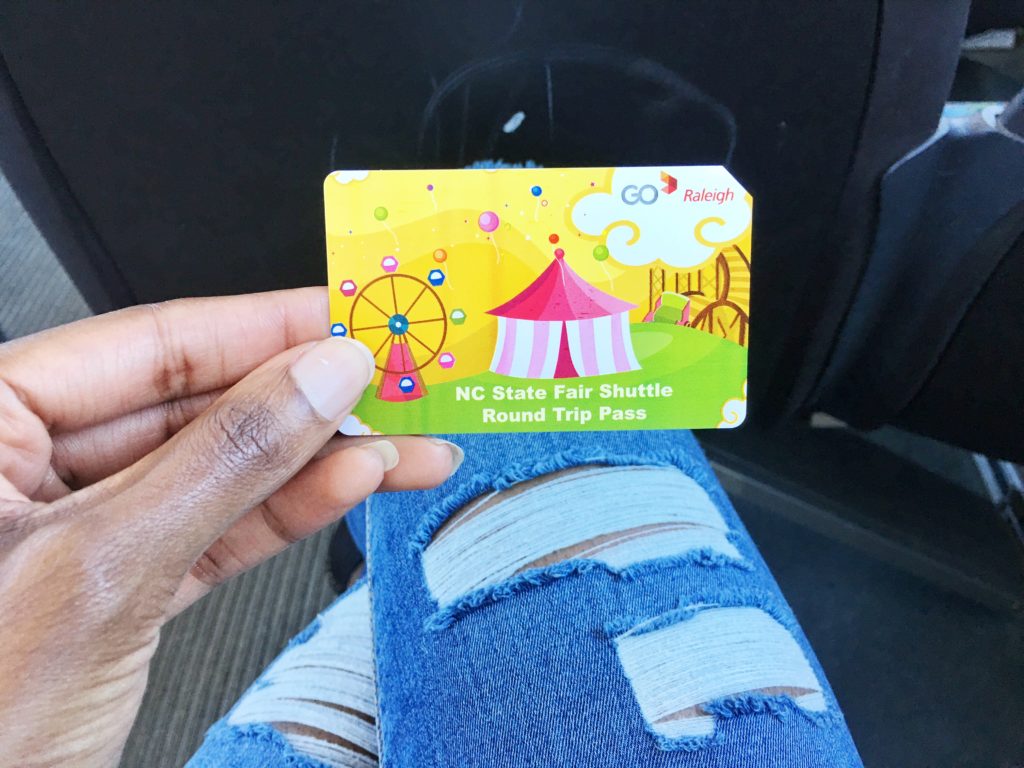 Yeah I know. But I tried to do the cute, healthy thing first. Since that didn't work I moved on to the indulgent, deep-fried thing:)
What did I do at the state fair? I ate, I walked around, and I ate while walking around. Below check out the four things I ate that you're only going to see at the NC State Fair.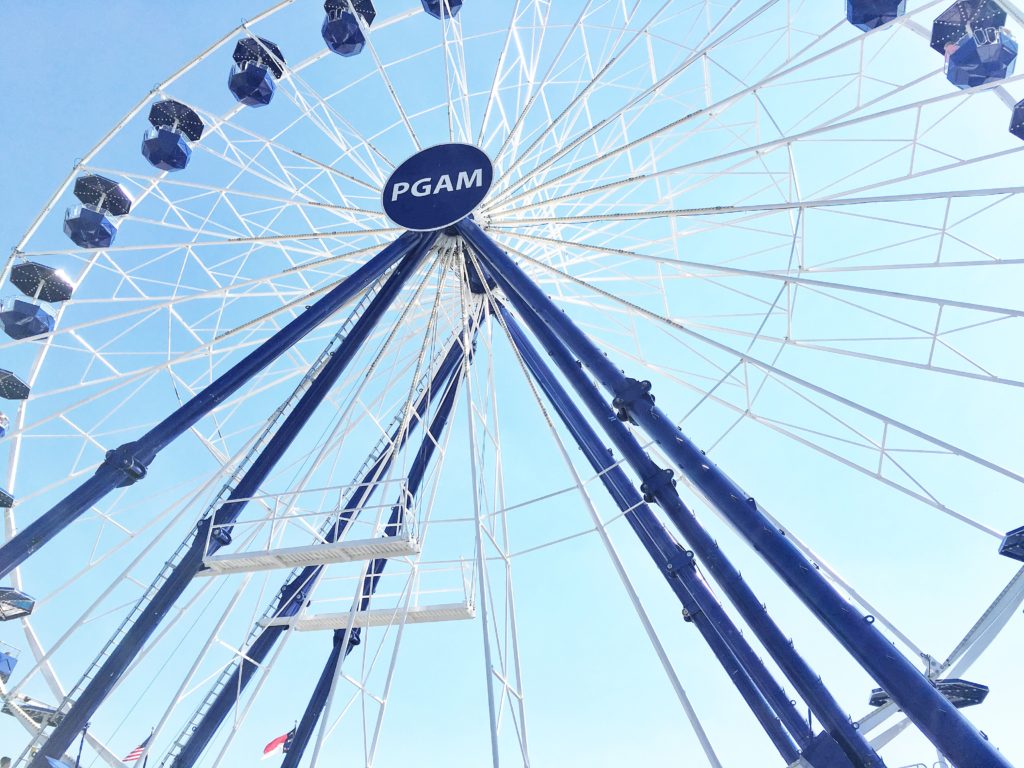 Blueberry Funnel Cake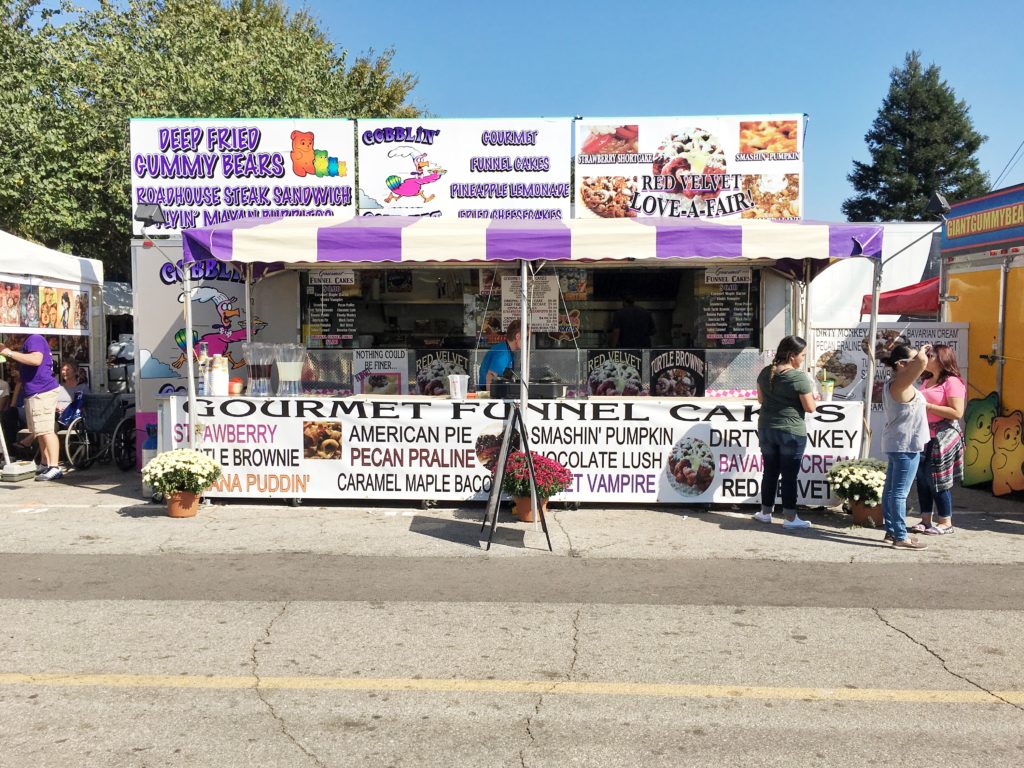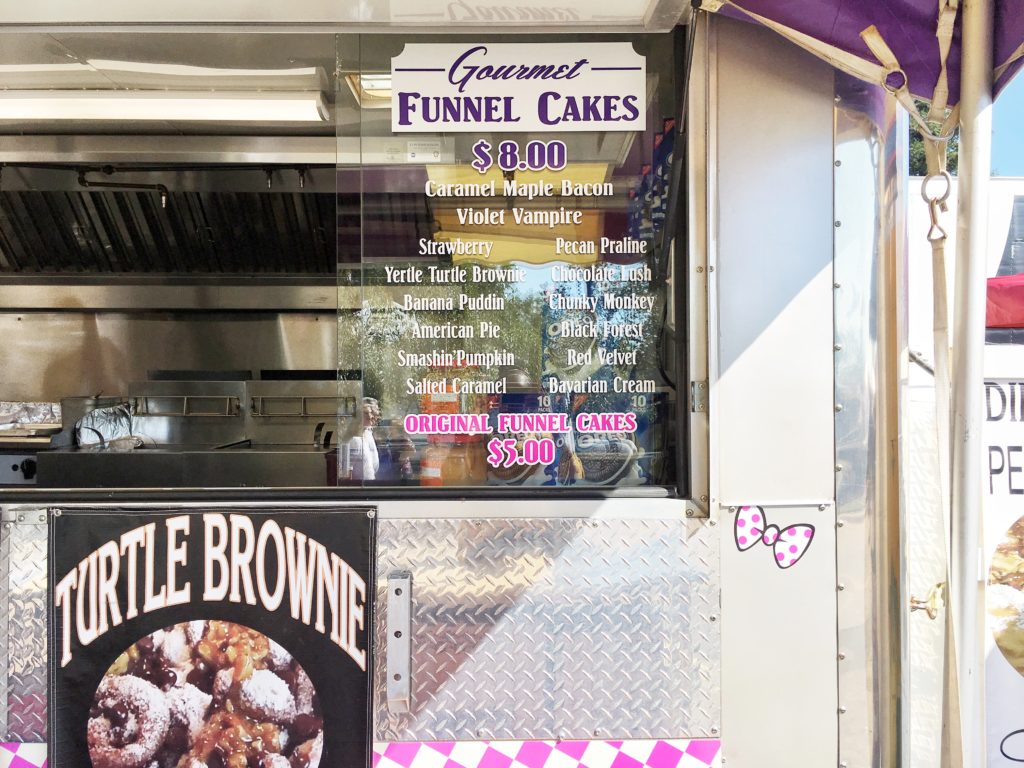 First thing I tried was the Violet Vampire funnel cake from Gobblin' Gourmet. It's a blueberry infused funnel cake with powdered sugar, homemade blueberry pie filling, fresh whipped cream, and a white chocolate drizzle.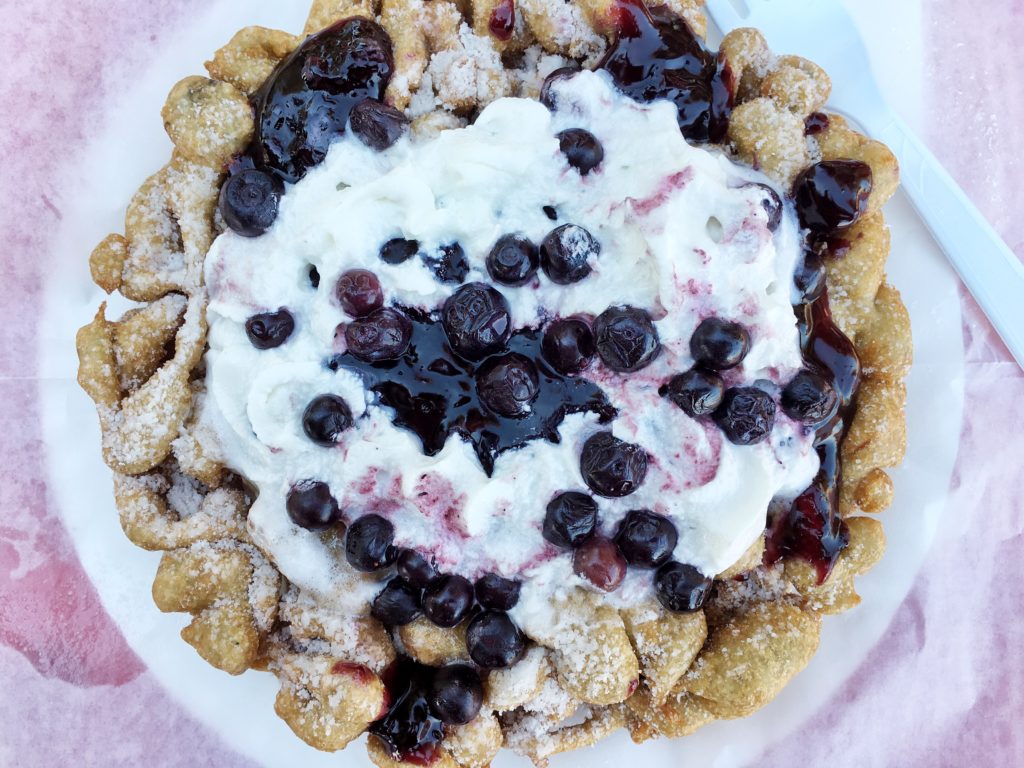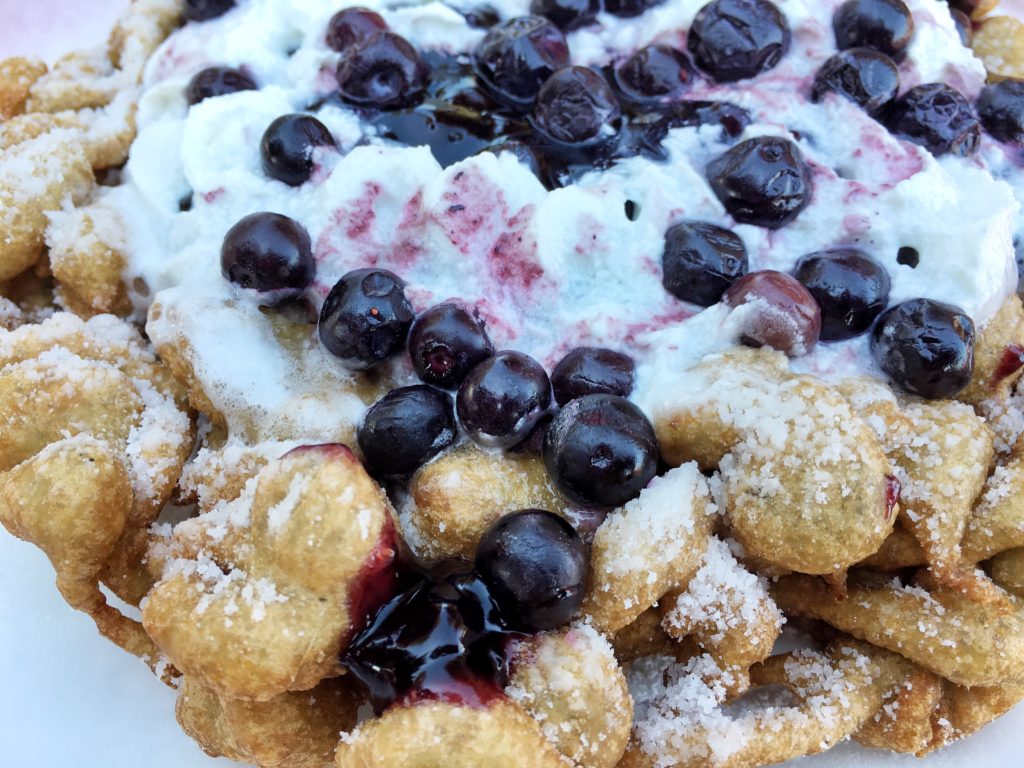 Wowsers right. The funnel cake was $8 which may seem like a lot but it is a "gourmet" funnel cake and it's big. As I was walking to a table with it, people were literally staring at me like what is that? You could see it in their eyes. Two women stopped me on the way to my seat to ask me what it was and where I got it from. Another women sitting at the table across from me said, "Wow that looks good." It was a sight for sore eyes. For presentation they get a 9.5. For taste, I'll give them a 7. It was good but I didn't taste the white chocolate drizzle and the blueberry pie filling was good but not great.
Bacon Pimiento Egg Roll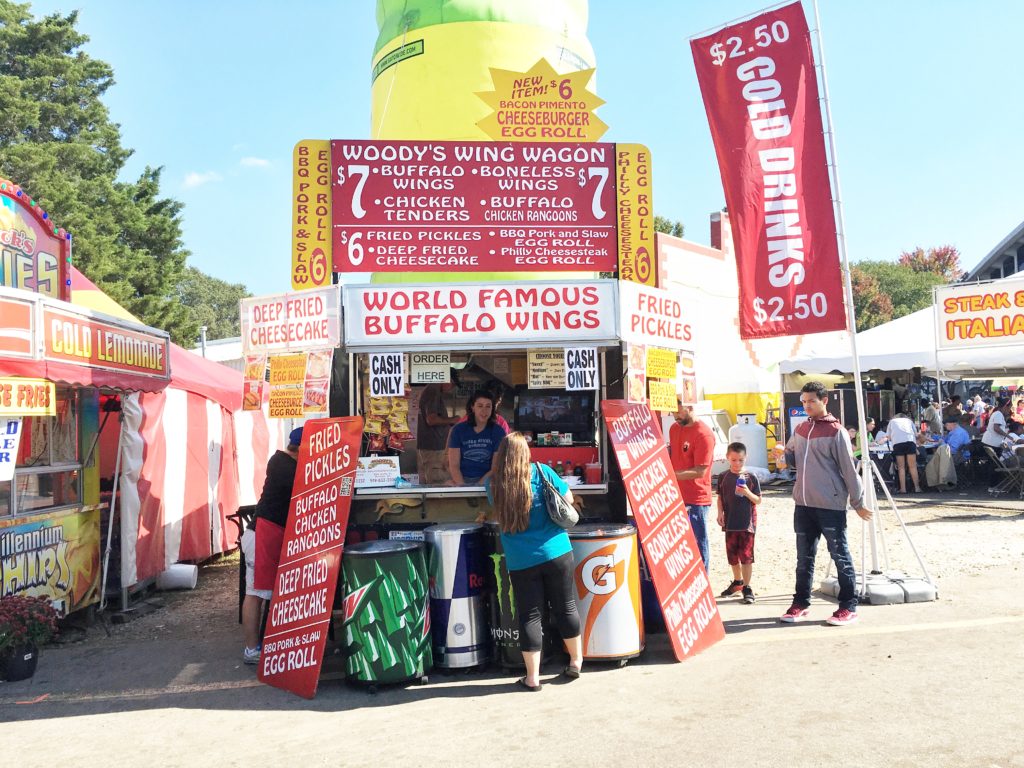 Next up was a bacon pimiento cheeseburger egg roll. While I was happy that the portion size was smaller since I knew there were other things I wanted to try, I wasn't happy about the $6 price tag. I know that similar to airport food and movie theater food fair food is  expensive, but $6 for a single egg roll seems like a stretch to me.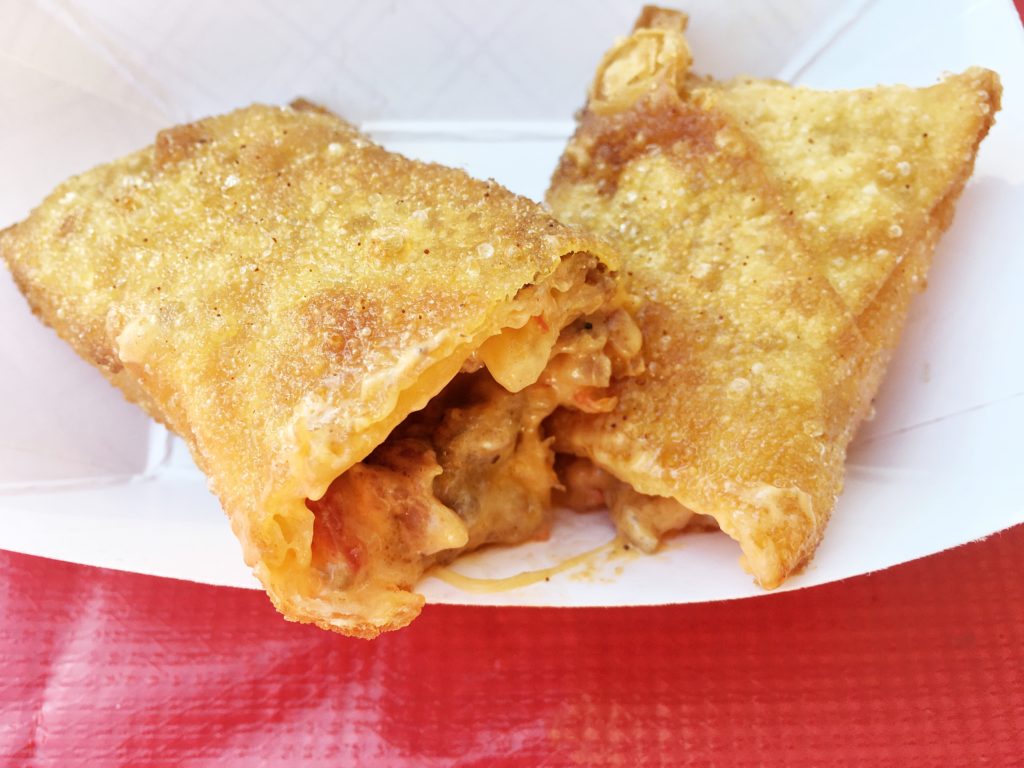 The egg roll tasted good but I didn't detect that much of the bacon. For all of the hype and the price I had much higher expectations. Overall I don't regret trying it but I would not get it again.
Caramel Apple Ice Cream
The best things in life are worth waiting for. No truer words can be said about the 2016 state fair ice cream flavor winner – caramel apple crisp. The line was intimidating.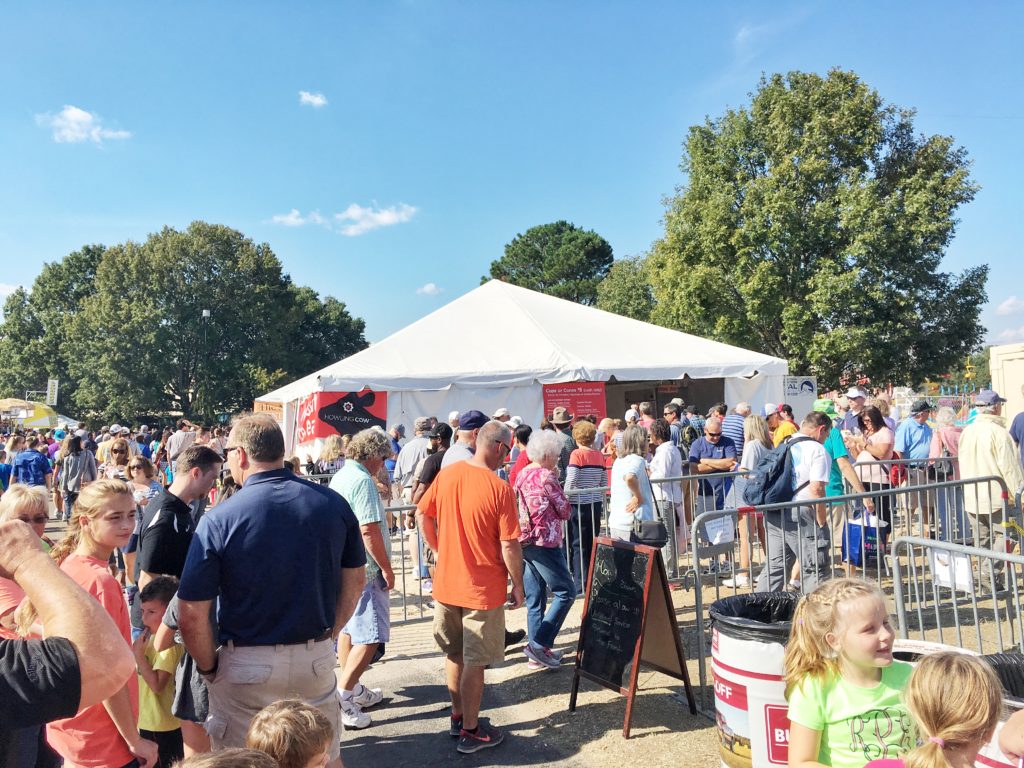 Fortunately the folks running it had it going like a well oiled machine, and the wait only ended up being a little under 20 minutes. Boy was it worth it. This was the best thing I ate hands down. It was udderly (get it?!) delicious.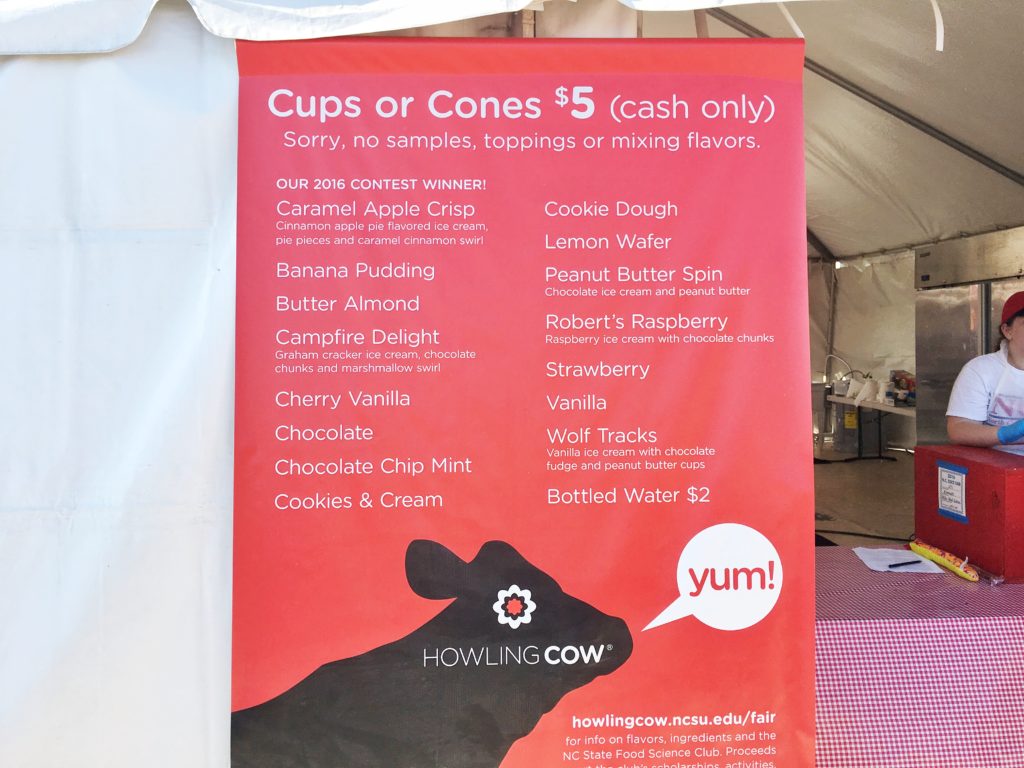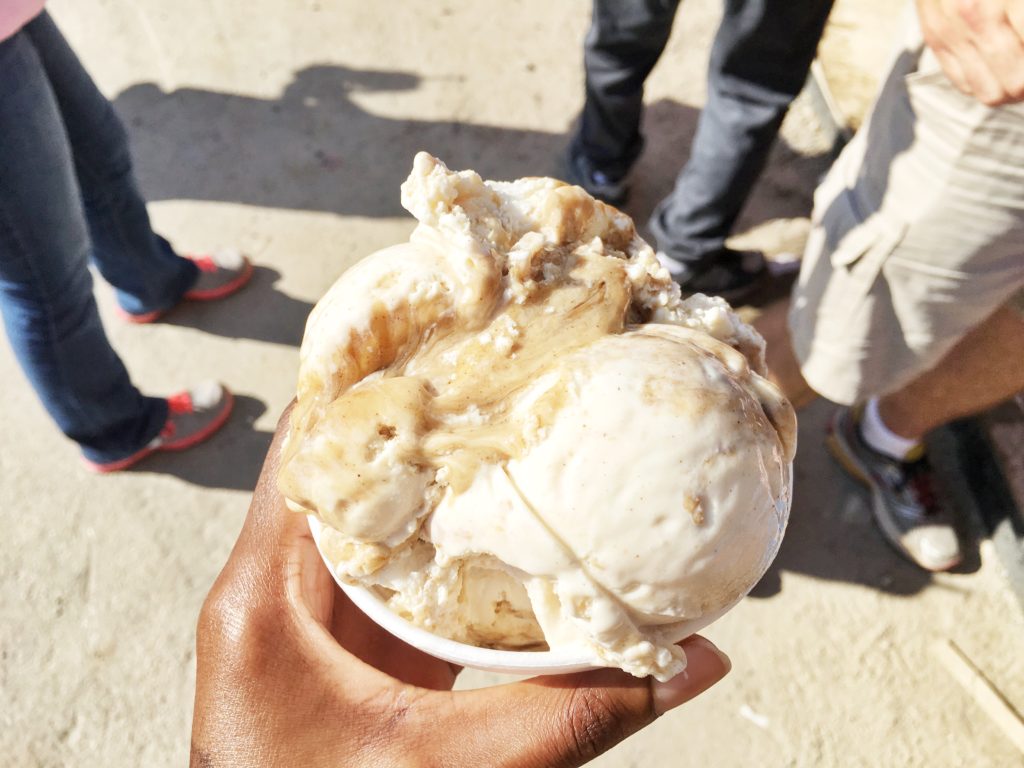 It was cinnamon apple pie flavored ice cream with pie pieces and a caramel cinnamon swirl. Wow is all I can say. And for $5 for a very healthy sized portion it was a great deal in my opinion. I wish it was sold in stores. It's probably for the best that it's not though.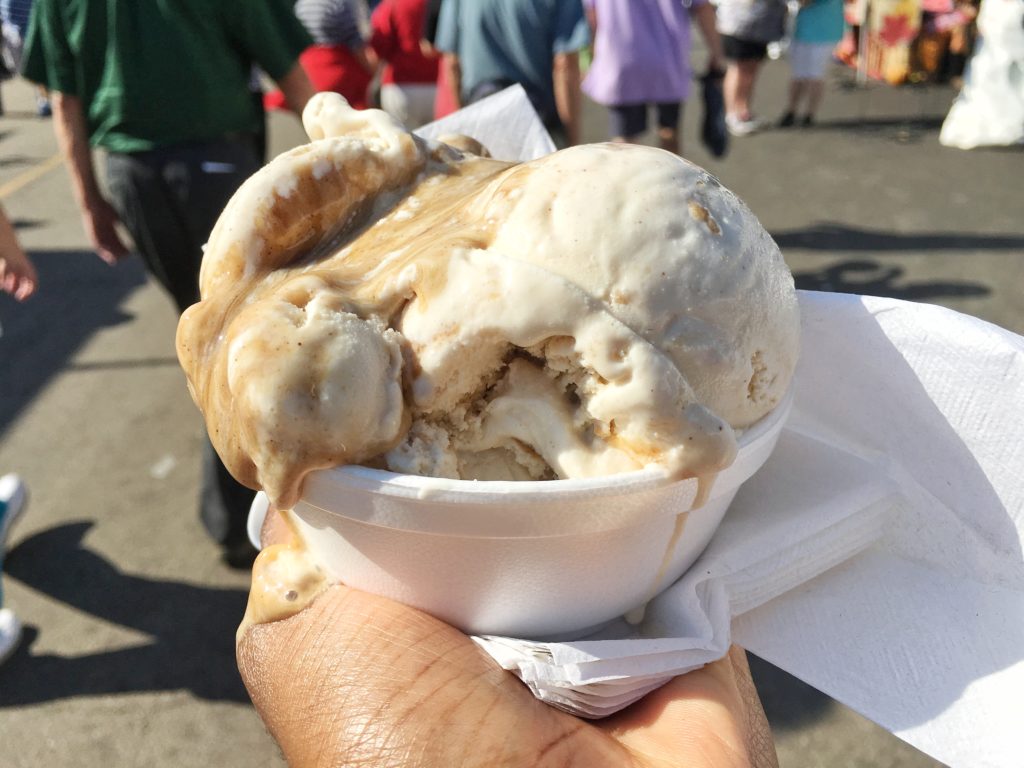 In years past I've heard about Howling Cow being one of the highlights of the NC State fair. Come to think of it, in some of the news segments I saw I remember there being long lines so I should have known I'd have to wait. Again it was totally worth it. The guy in front of me was telling me how consistently great it is, and how he and his family always come and get this ice cream. I can see why.
Captain Neill's Hot Crab Dip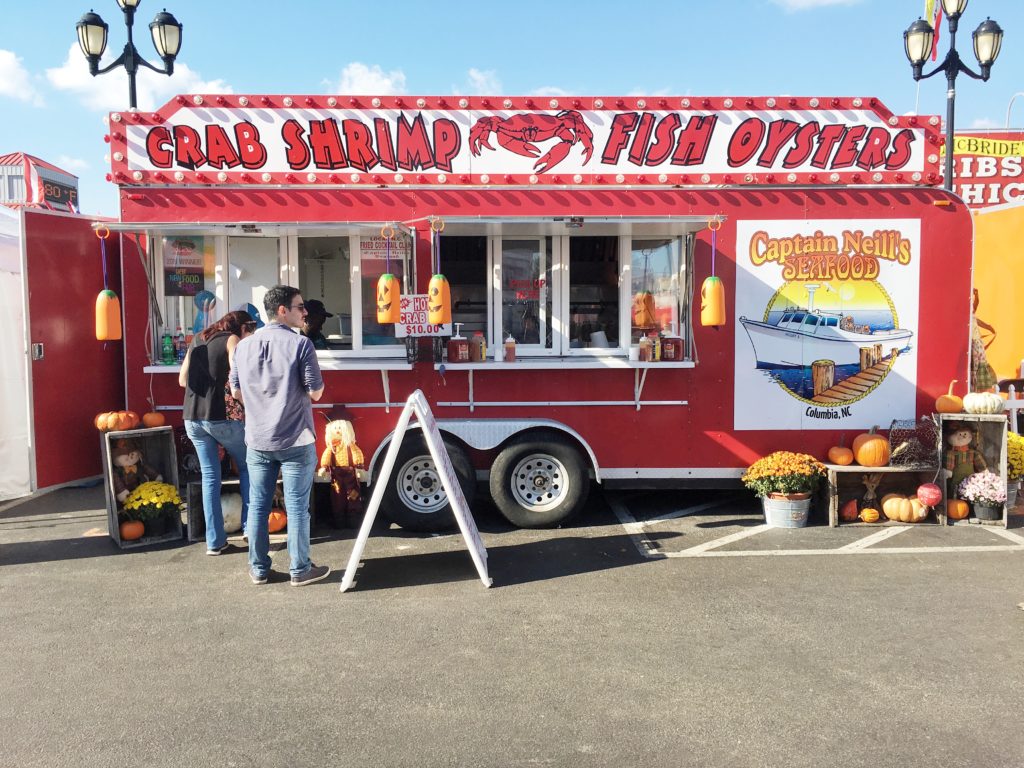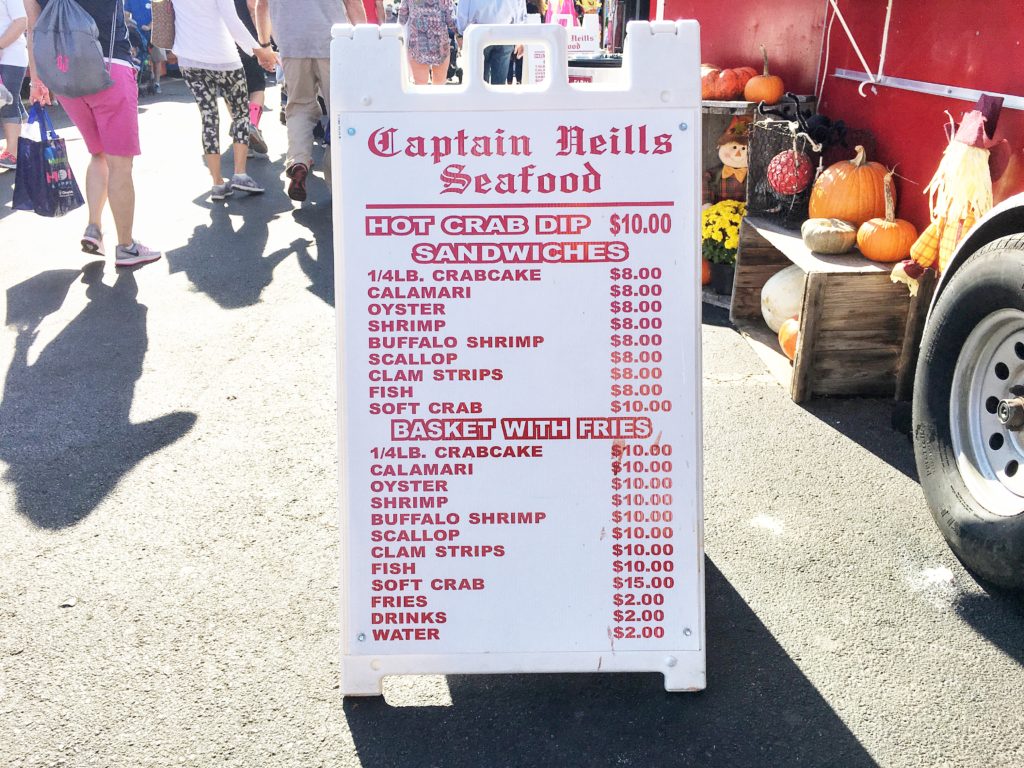 This crab dip was the winner of best new food at the fair. When a dish wins an award like that it's kind of demanding that you try it out to see why. After tasting it I thought it was really good. Award worthy, perhaps in the savory category. Considering the caramel apple ice cream also counted as a new food, I don't think it beat that out. The dip was $10. Pricey, but again it's fair food and it has crab in it so it's to be expected.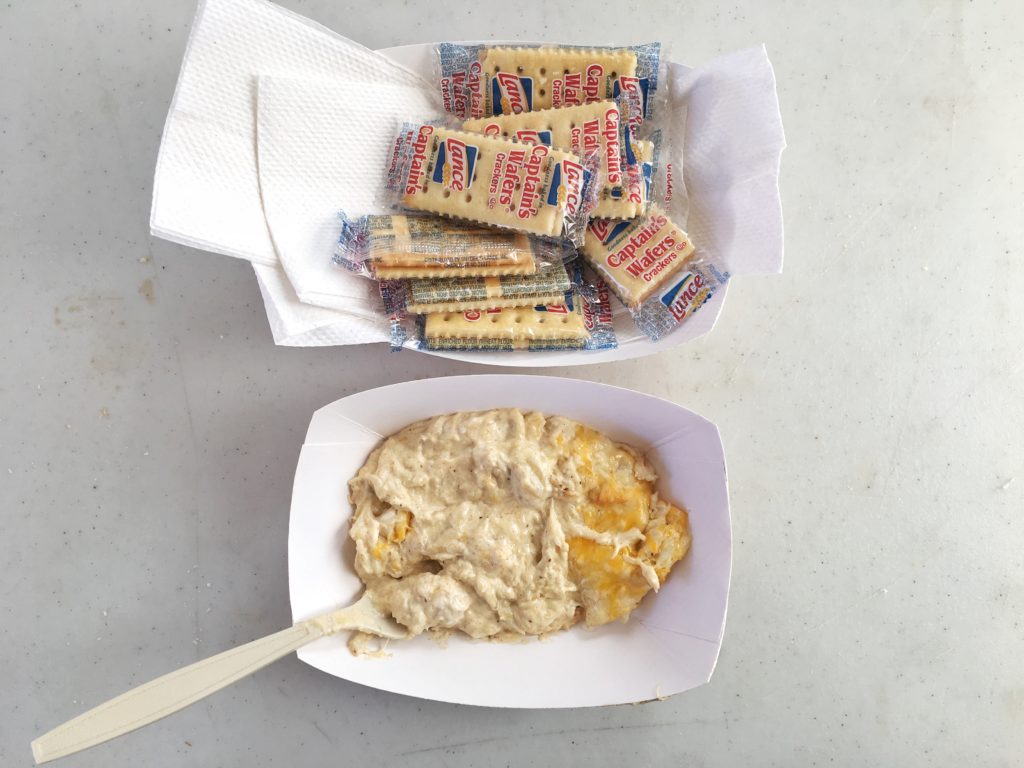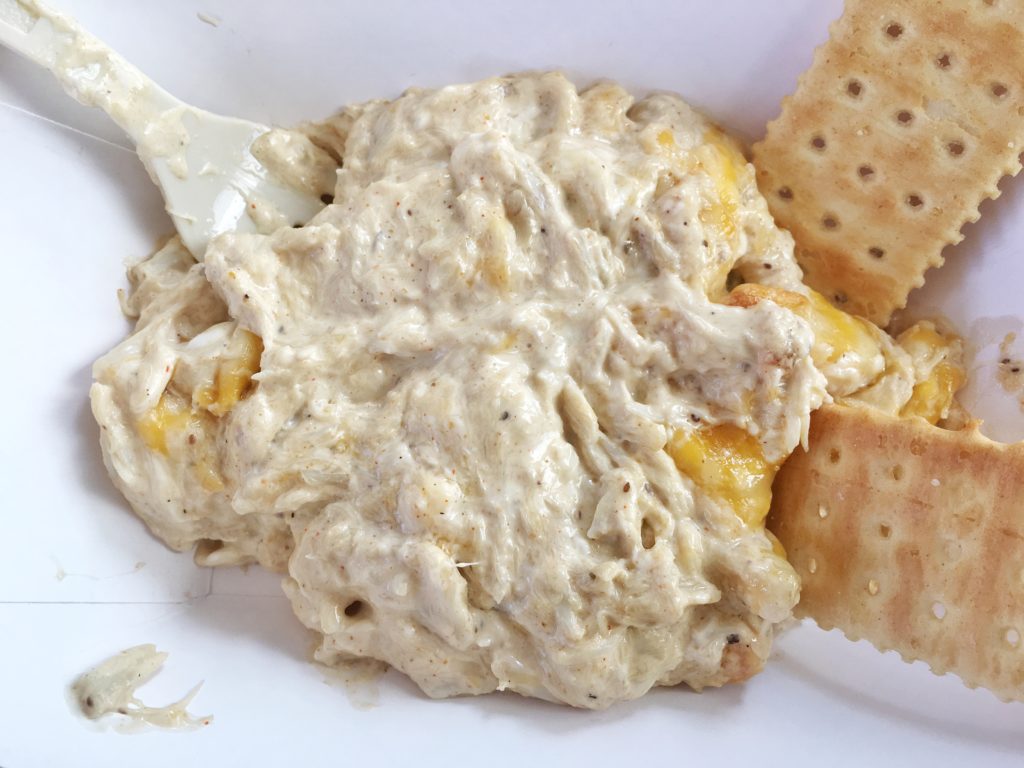 When I got back I had a ton of water as well as some of this Kevita Tumeric Ginger kombucha drink. I like the taste of these Kevita drinks when I want an alternative to water that has some fizziness to it. I also like the kick it has with the tumeric and ginger in it.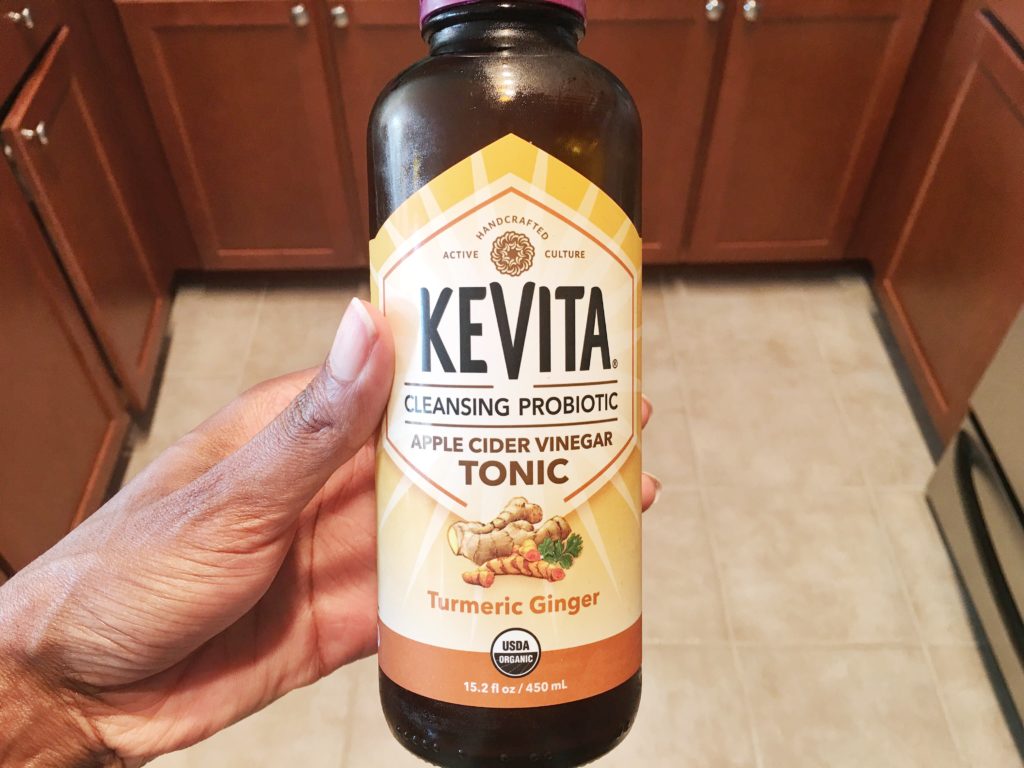 After all that eating you'd think I went to bed that night feeling bloated but surprisingly I didn't. I realized that I did a few things while I was at the fair that helped. For any of you who are planning to go to the NC state fair or any other fair, I have a few tips for you on how to mitigate any feelings of guilt.
One, be real with yourself. I knew when I was going to the fair that I was going to be eating unhealthy food. The foods I ate had no redeeming qualities aside from being yummy. Since the fair is the place to debut all foods decadent, what I did was plan ahead. Before I went I figured out the foods that I had to try. When I got there I made sure that I tried those foods first.
While I was there, other items caught my attention like bacon smores, krispy kreme burgers, and jalapeno pimiento cheese and bacon hushpuppies with sriracha bang bang sauce. However, I told myself that I needed to try what I came for first and then circle back to those other foods if I still wanted to.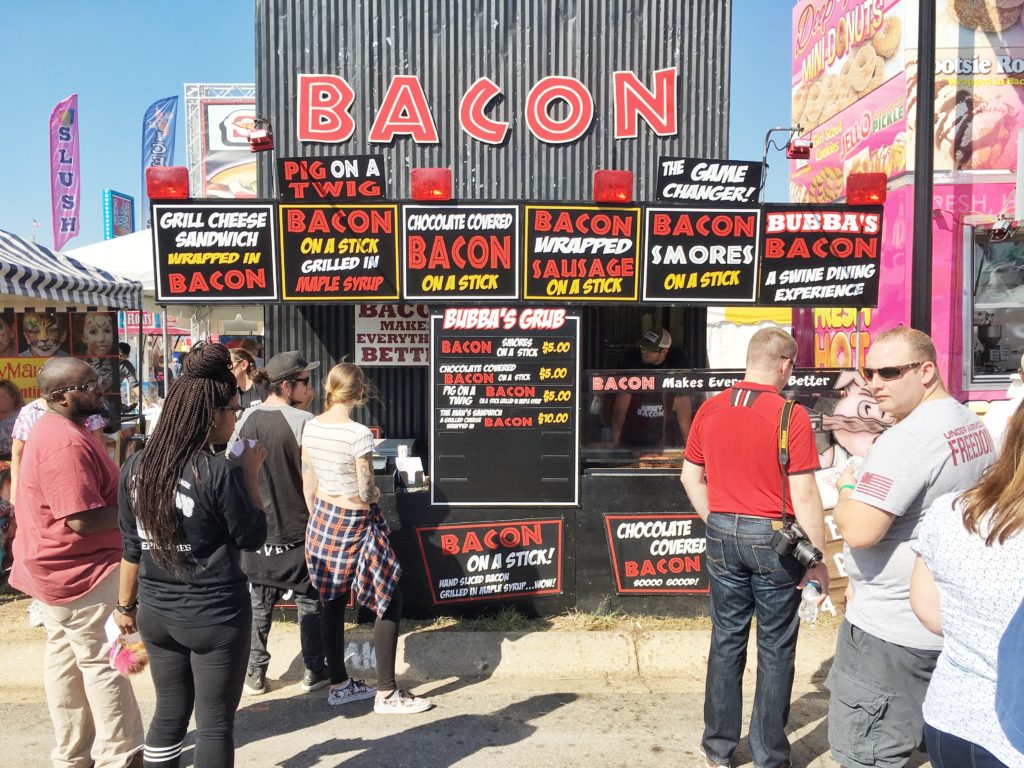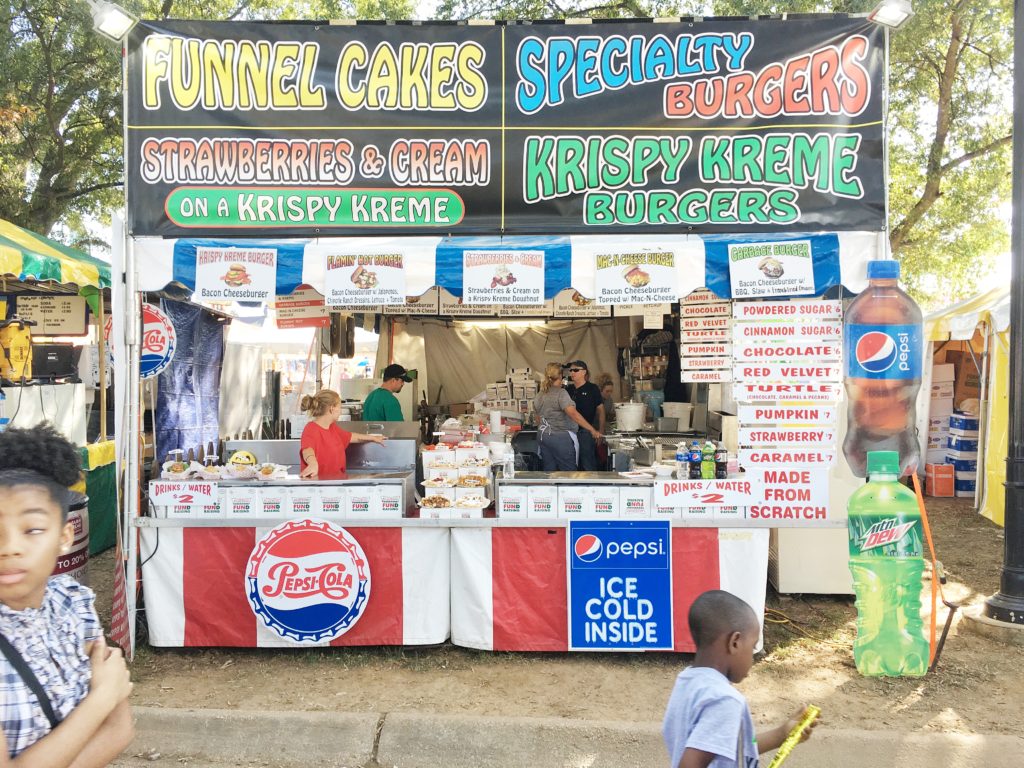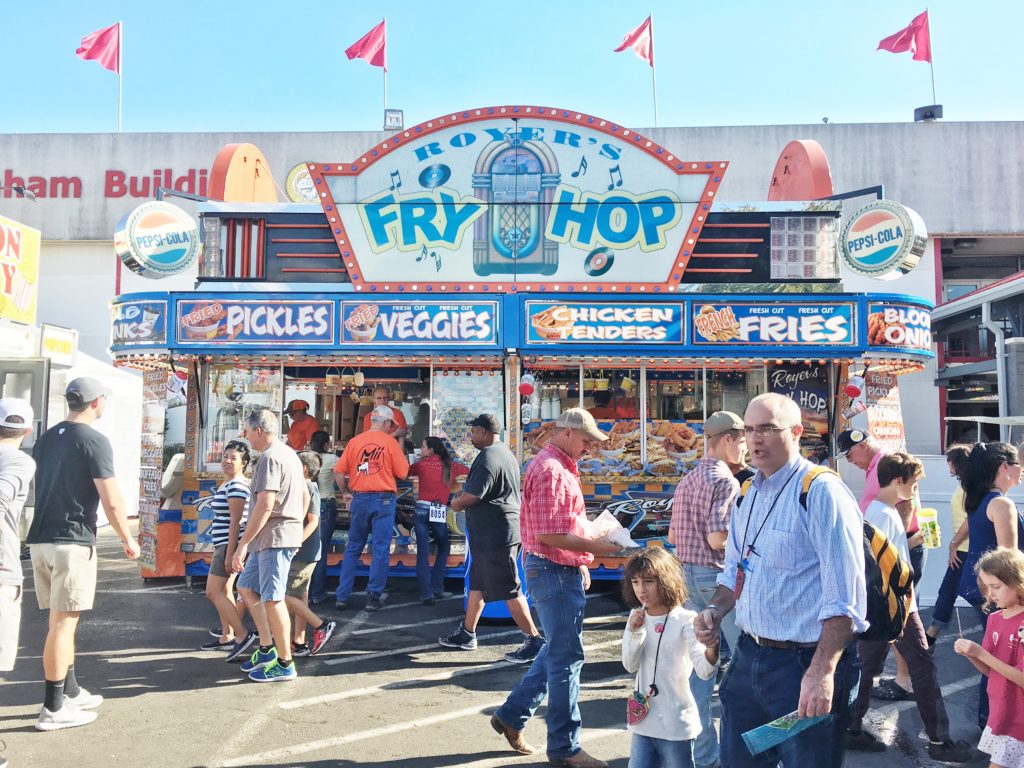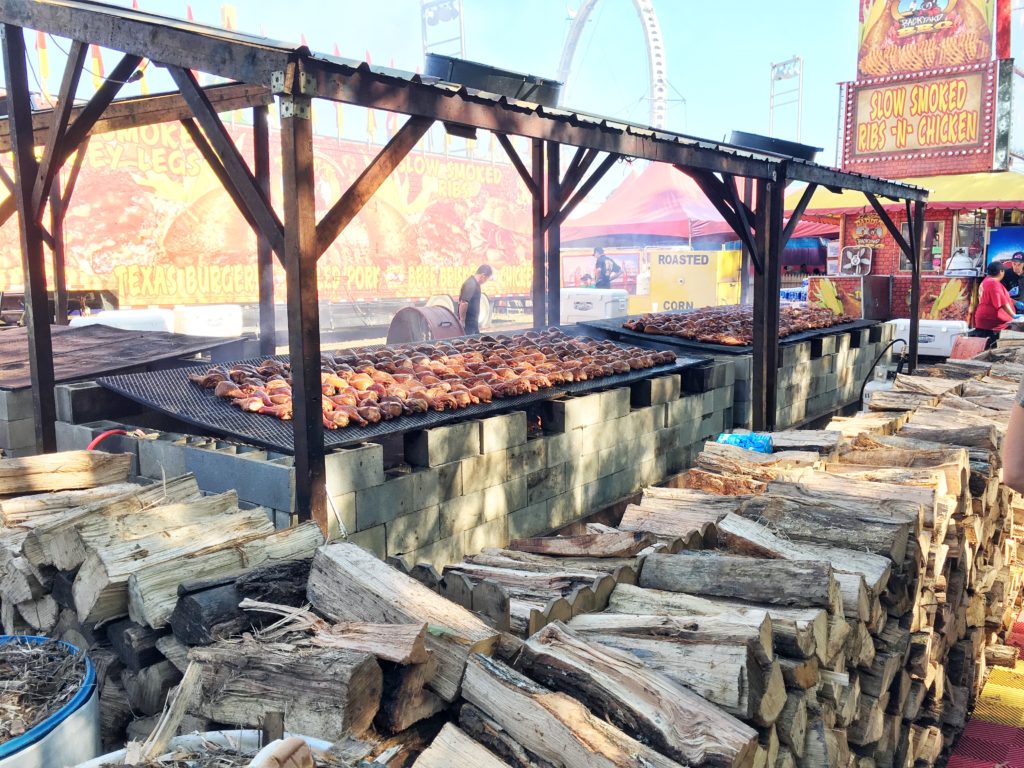 In coming up with my list of foods to try, I prioritized foods that a) I knew I would only see at a state fair (if it was something I felt like I could get a restaurant, or say a specialty candy shop then I passed on it), and b) I would only see at the NC state fair. B was very important. Sure I would have loved to try a red velvet funnel cake but I've seen those before. What I hadn't seen before was a blueberry infused funnel cake.
Two, don't know where you're going. If you haven't been to the NC state fair it's pretty big. Instead of asking for directions or trying to find a map, I decided to just keep walking until I came across everything naturally. I got to the fair at about 1:15 and left around 4pm. I probably spent a total of 20 minutes seated so I was walking around for ~2.5 hours. It turned out to be a great way to get physical activity in between (and during) bites. It was also a nice way to see more of the fair than I might have otherwise. Had I not taking this approach to wandering I may not have come across a specialty nut stand and purchased a delicious bag of spicy hot honey cashews.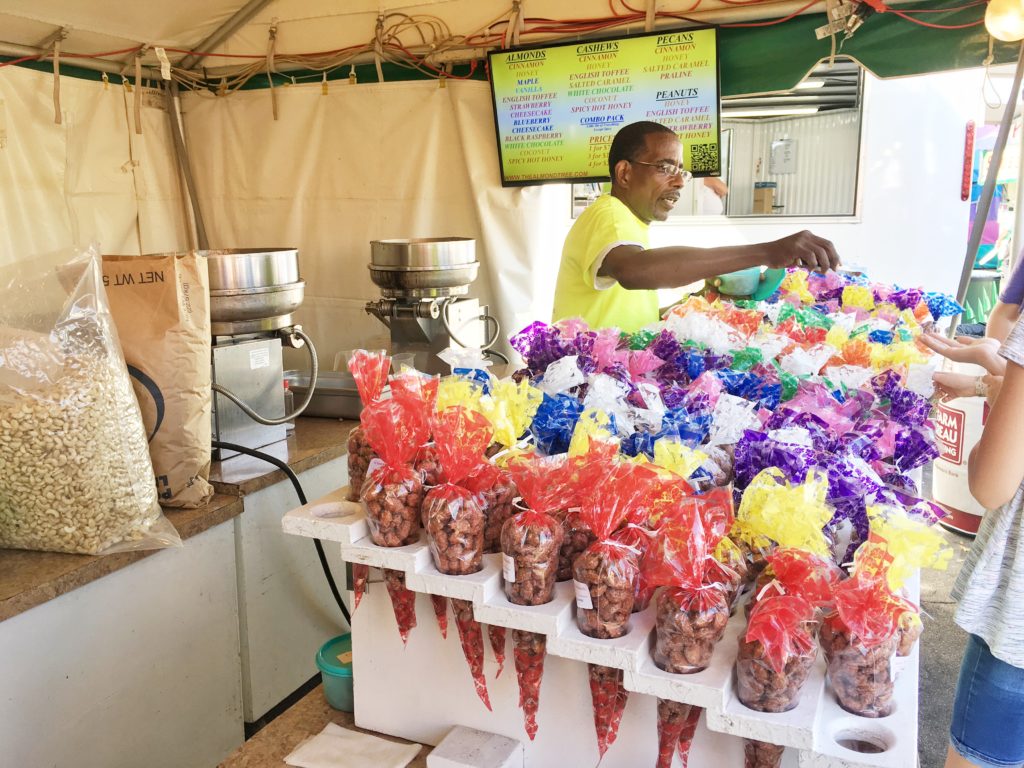 Three, don't be afraid to throw away food that isn't amazing. For me I'm really big on just being able to try different foods. If I can find out how something tastes I'm content with only getting a few bites. I only commit myself to finishing food that tastes really good. Think of the space in your belly as prime real estate. It's limited so you want to reserve that space for the best. While I liked the blueberry funnel cake it wasn't amazing so I didn't eat all of it. You want to save room for the things that you're really going to enjoy. For me this was the ice cream. It was incredibly delicious and I ate every last spoonful.
So those are my tips. By using them I was able to try everything I wanted to try, enjoy the food that was really good, and not feel guilty about any of it. I came, I ate, and I conquered.
Have any of you been to the NC state fair before? What's the craziest thing you've ever eaten at a fair? Tell me below!